Teensy USB Development Board
| | | | |
| --- | --- | --- | --- |
| | TEENSY32 | Teensy USB Board, Version 3.2 | $19.80 |
| | |
| --- | --- |
| Inventory Status: | In Stock, Low |
| Last physical count: | Feb 27, 2017 |
Update, Feb 26, 2017: More Teensy 3.2 are in production and will become available in early March. Plenty of Teensy 3.2 are in stock at these distributors. Due to an unexpected delay from our PCB vendor, this may be the first time in Teensy 3.2's history it could run out of stock. Please don't panic. Teensy 3.2 is not going away! Plenty more are coming very soon.
Actual size is 1.4 by 0.7 inch
The Teensy USB Development Board is a complete USB-based microcontoller development system.
Version 3.2 features a 32 bit ARM processor.
Teensy 3.2 is a direct, 100% compatible replacement for Teensy 3.1. It is fully compatible with all shields and add-on boards made for Teensy 3.1, including the Audio Board and OctoWS2811 Adaptor.
All Teensy boards are shipped assembled and fully tested.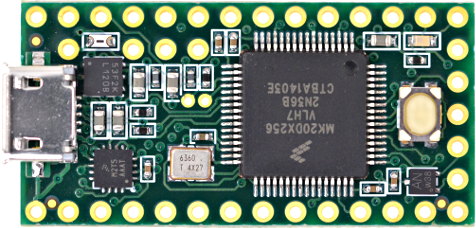 Back Side: