Recent Blog Posts
Kevin Bott and the Art + Technology +  Sustainablity Research Group at the University of New Mexico created a beautiful art installation, Skylight, at the Albuquerque Anderson-Abruzzo Balloon Museum in their famous balloon-shaped window.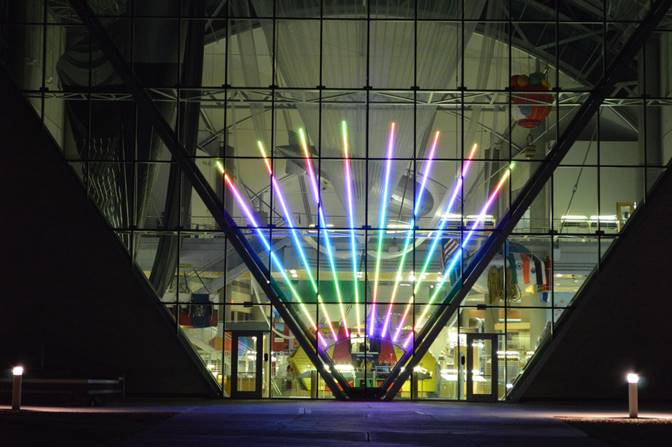 Those LED runs are 24 feet long! Holy cow!
This video gives […]
Forum user Cyclist recently built a free pendulum clock.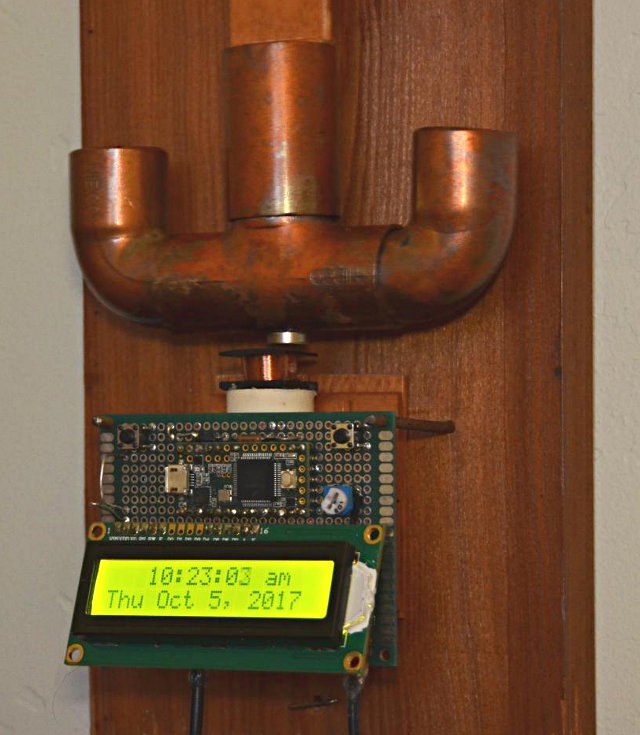 The cool thing about a free pendulum is that it has no mechanical linkage, escapement mechanism, or direct mechanical power to keep it going.
A small magnet on the bottom of the pendulum induces a voltage on a […]
Nick Metchalfe built his own audio spectrum analyzer that produces a detailed picture of what you are listing to in real time, showing the changing spectrum of live input signals up to 16 kHz.  By using 2 16×32 LED matrixes, the spectrum displays 64 bands.
This video show the spectrum analyzer in action.
Nick says that the Teensy Audio Library is at the heart of the design, providing audio capture and high resolution FFT routines. […]
Jeremy Gilbert made an awesome clicky toy.  The goal of the project was to create a toy that is fun to use, be tactile, light up, and make fun and satisfying noises.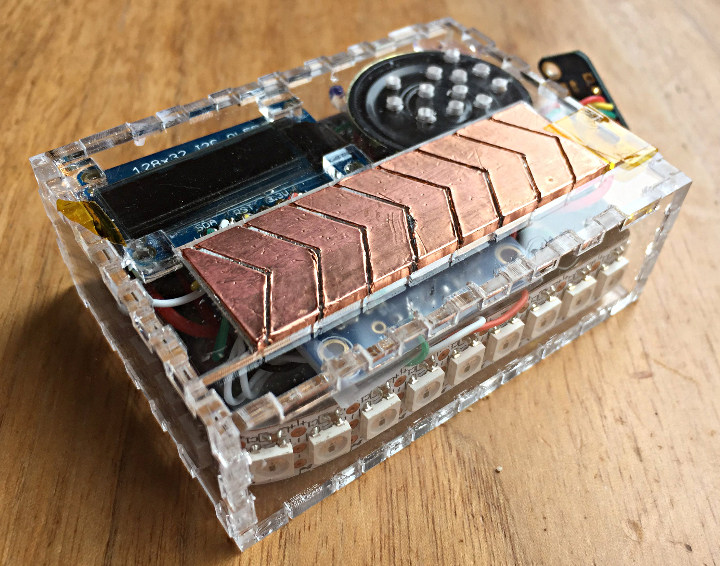 After looking at different options to get the right "clicky-ness", a 5V relay was used.  Jeremy discovered that you get get […]
Ben Forta made a giant menorah, with spinning dreidels, to celebrate Chanukah.

This impressive display is over 20 feet wide,  6 feet high, using over 3,500 NeoPixels with animated lighting sequences.
This tweet from Ben has a little more info.  Hopefully he'll have time to share more photos […]
All Blog Posts »
We would love to show your Teensy-based project here.
Please post a new thread on this forum with at least one photo, a short description and your name or a nickname as you'd like to be known.