Recent Blog Posts
This tale begins with a customer reporting this cute little 2 port USB hub wasn't working with Teensy 3.6.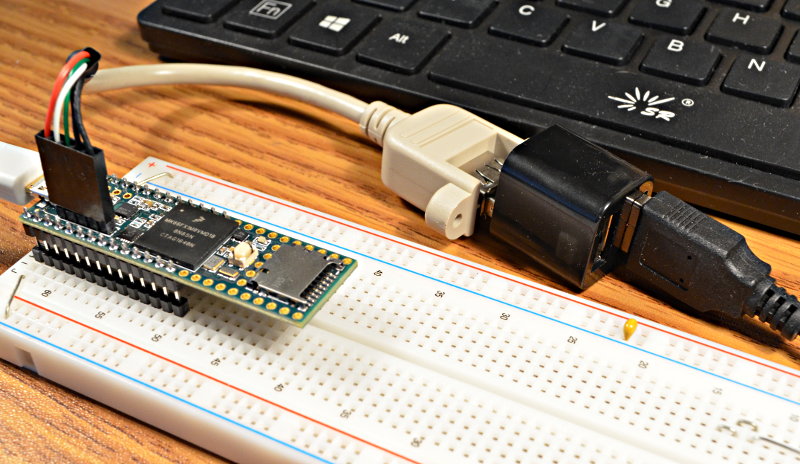 In this article I'll show how a protocol analyzer is used, how my instincts turned out to be very wrong, and along the way dive into arcane USB details you probably won't see […]
Pagorelam made this great sequencer for the IOT Hackathon in Nuremberg
Ben Heck of element14 built a portable pinball machine.
In the first video (part 1) Ben discusses the design of the project and puts the electronics together, including writing the code.  In the second video (part 2) he finished building the portable pinball machine.
Code for the project has been published on GitHub.
Tim Lukasik made an awesome LED top hat.
The hat was made to wear to Above & Beyond's Common Ground tour.  Tim used 722 neopixels glued onto a thin foam backing which was then attached to a top hat.  A Teensy 3.2 and a battery pack for power were wired into it.  He programmed the LEDs to display 13 different designs featuring the band's iconic event logos that rotate in order.
The code for […]
Benni (Tinker-Fun) made custom USB shortcut button to use with your favorite software.
In his work, Bennie uses drawing software and was wanting the functionality to quickly activate the full screen and do things such as rotate the drawing sheet.  After looking at a few commercially available devices, he decided to make his own custom USB device that he could program with the specific functions he wanted.
The device has a single click, double […]
All Blog Posts »
We would love to show your Teensy-based project here.
Please post a new thread on this forum with at least one photo, a short description and your name or a nickname as you'd like to be known.