PJRC Store

Full Product List

Teensy 32 bit

Teensy 4.1

Teensy 4.1 Pins

Teensy 4.0

Teensy 4.0 Pins

Color Touchscreen

Prop Shield

Prop Shield Lowcost

Pins 14x1

Pins 24x1

Socket 14x1

Socket 24x1

USB Host Cable

Audio Adaptor

Microphone

Audio Tutorial

Audio Tutorial Parts

Audio Ground Isolator

PT8211 Audio Kit

Ethernet Kit

Pins+Socket 3x2

OctoWS2811 Adaptor

MKL02 T4.x Chip

PSRAM Chip

Tutorial Kit

RGB LED

Pot, 25K

Pins 14x1-D

Breadboard

Teensy 3.x (legacy)

Teensy 8 bit

MP3 Player

8051 Dev Board

Discontinued

Payment Options

Privacy Policy
PSRAM Chip for Teensy 4.1
| | | | |
| --- | --- | --- | --- |
| | IC_PSRAM_8MB_SOIC8 | 8 Megabyte PSRAM chip compatible with Teensy 4.1 | $1.80 |
| | |
| --- | --- |
| Inventory Status: | In Stock |
| Last physical count: | Aug 11, 2023 |
This PSRAM chip can add 8 Megabytes of RAM for use on Teensy 4.1.
The following PSRAM chips have been tested with Teensy 4.1. Your order will be filled with one of these chips.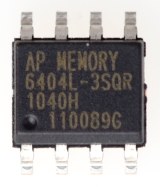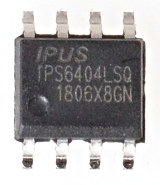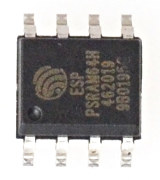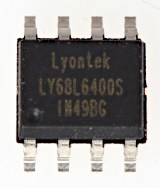 Proto Supplies offers Teensy 4.1 with PSRAM chips pre-soldered. If you are not comfortable with DIY soldering of these small parts, Proto Supplies can do it for you.
One PSRAM Chip for 8 MB Memory
The PSRAM chip is meant to be soldered to the smaller pads on the bottom side of Teensy 4.1, underneath the SD card socket, between pins 31-32 and 33-34. Do not use the larger pads. A single PSRAM chip must be solded to the smaller pads to be detected.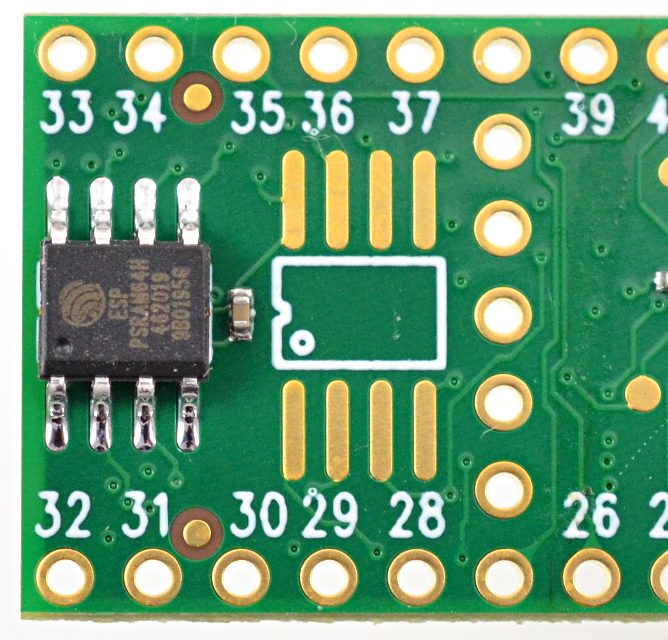 Two PSRAM Chips for 16 MB Memory
If 8 MB isn't enough, you can solder 2 PSRAM chips for a total of 16 MB.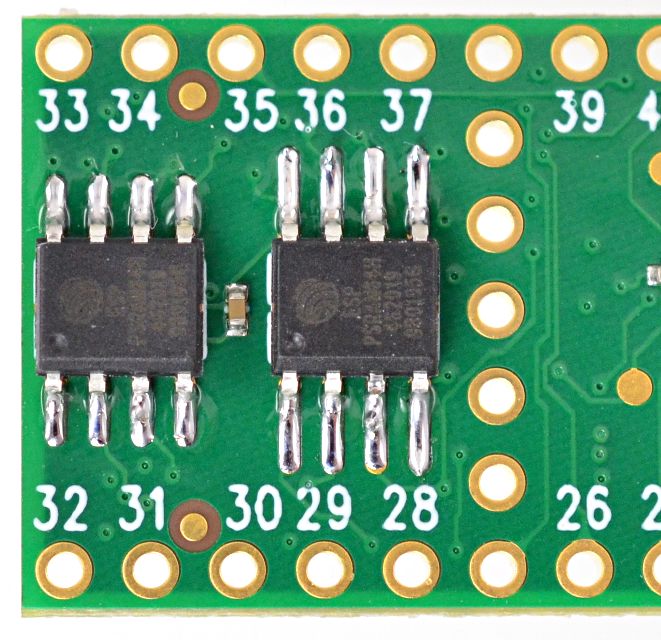 One PSRAM Chip with Flash Memory
To use flash memory for non-volatile storage together with PSRAM for large buffers or variables, add the PSRAM chip to the smaller pads and the flash memory to the larger pads.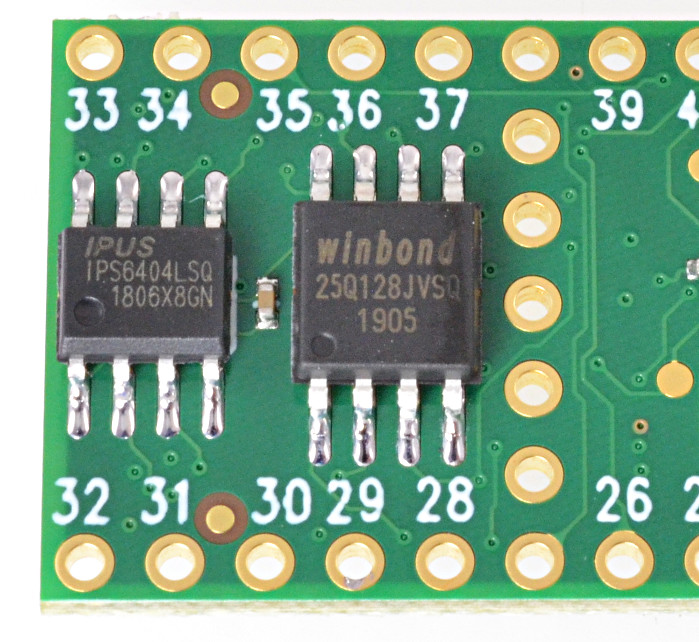 After soldering the PSRAM to your Teensy 4.1, run this memory test program to verify the PSRAM memory really is working properly.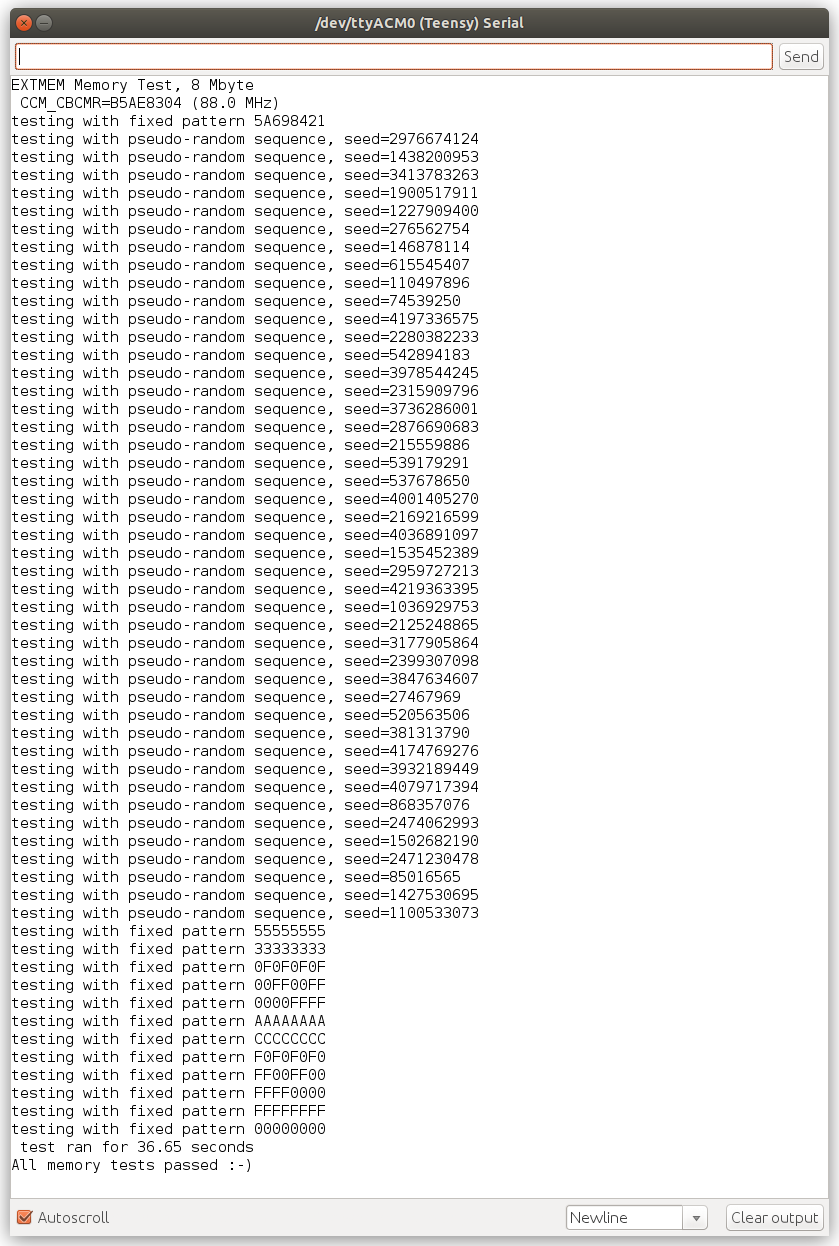 Using PSRAM Memory
To use PSRAM memory in Arduino, add EXTMEM to large arrays or other variables you wish to be allocated in the PSRAM. These variables are not initialized and will contain random data when your program starts, so don't forget to set them to zero or fill them with the data you need before use.