PJRC Store

Full Product List

Teensy

MP3 Player

Assembled Board

LCD 24x8 Display

LCD w/ Backlight

Unassembled Kit

Standoffs

IDE Cable

Used 72-Pin SIMMs

Individual Parts

8051 Dev Board

Misc

Payment Options

Privacy Policy
MP3 Player Board, Unassembled Kit
This MP3 player circuit board contain all the components require to build the new MP3 Player design. After the board is assembled, a hard disk drive, standard 72-pin SIMM memory, and power source are needed to make a complete player.
| | | | |
| --- | --- | --- | --- |
| Sold Out | MP3_PCB_KIT | MP3 Player Board, Complete Kit | $150* |
The STA013 MP3 decoder chip, CS4334 DAC, and VP5_0060 transformer, MAX810 and NPS8434 are surface mount components. The ICs are 50 mil (1.27 mm) lead spacing parts, which are low density pin spacing, but can still be quite a challenge for anyone without experience soldering surface mount components. If you're not comfortable soldering these surface mount parts, please consider the fully assembled board.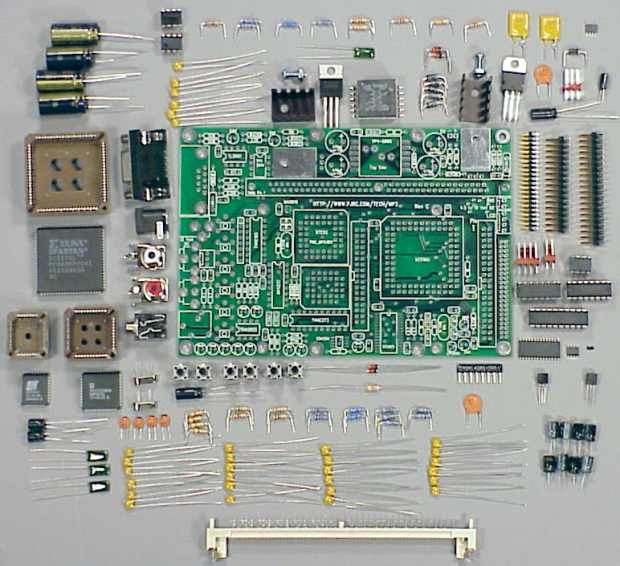 These parts come packaged in 10 bags, corresponding to the assembly steps, which are packaged into two larger bags together with the chips and sockets.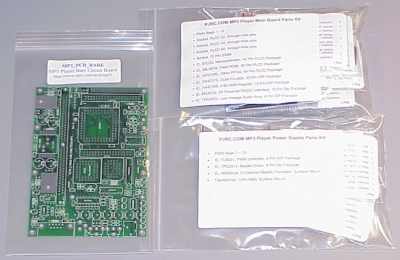 About the Unassembled vs Assembled Price
Several people have asked why this unassembled kit has the same price as the assembled and tested circuit board, and if the price is simply an error. It's not an error, and there's a long history behind it. Here goes....
It seems reasonable at first that assembly and testing takes more time and would cost more, and our 8051 development board kit is sold at a lower price than its assembled version. We originally sold this kit for $10 less than the assembled version, but we quickly discovered three realities:
Packaging these parts take approximately the same cost/time as assembling the board. This kit has a large number of parts in many sizes and shapes that demand special packaging, and of course every kit needs to be double checked, since we have no way to test it.
A small number of people would purchase the unassembled version, simply to save a few dollars, without fully understanding the work required and skill necessary to solder it (including 5 surface mount parts).
Tech support is not fun. With over 750 solder connections, there are a lot of opportunities for error. Many people have built the kit without trouble, but those who have trouble usually require many emails and several lengthy phone calls. In several cases, we accepted the board back and repaired it, and in others we responded to questions about potentially bad parts by shipping replacement parts (not once has a replacement 87C52 solved anyone's problem, but the question often comes up if the firmware was correctly loaded, since there is no easy way to verify it). We really do want to see every project turn out to be a success, and in many cases that has required an increadible amount of time on tech support.
After the first two batches of kits, back on Rev A, Robin and I decided to discontinue these unassembled mp3 player kits. When we made the Rev B boards, all were assembled and none went into kits. We announced that we would no longer provide the project unassembled. The last few kits sold quickly, and we were contacted by a number of people who were really interested in building the board themselves.

So, we decided to continue the unassembled kits with Rev C (and part of the motivation for Rev C's much more rugged power supply design was ease the troubleshooting of these kits). Afterall, the purpose of the site is to provide cool projects for hobbists to build, and it was clear we had at least some folks who really want to build it themselves. Starting with rev C, we set the price the same as the assembled board, just $10 more, to address worst problem where some would buy it to save a few dollars without considering the work required. We began shipping Rev C unassembled kits (and everyone who waited during Rev B got it at the original lower price).

Tech support is still sometimes a nightmare, and in those really tough cases we just have the customer return the board and I repair it instead of spending endless emails or phone calls "shooting in the dark". On the other hand, a good number of people build the kit and get it to work perfectly on the first try. Usually "no news is good news", but it's really kind of inspiring to hear when someone has a good experience with the kit.

We really do want to help everyone have a successful project experience. For some people, that includes soldering all the parts by hand. If that's what you want, and you're up to the task, then this unassembled kit is for you, and we hope you can understand the experiences we've had over the last couple years and why this kit has the same price as the assembled and tested board.

For hobbists on a budget, where saving a buck is the most important factor, the best approach is to buy a used board. We've made this for some time and every now and then someone sells their board, usually posting in the Yahoo user group. Often times they include a simm, laptop hard drive or other items. Soldering all the parts is not a good way to save money, and historically most of the people who decided to solder themselves simply to save some money ended up spending more than they would have just going with the assembled board.

Please choose wisely. If building it yourself is important and gives you personal satisfaction, the unassembled kit is still available and we'll be there to support you.
Related PJRC Project Pages