USB Cable, Mini-B to Standard-B Panel Mount Adaptor
| | | | |
| --- | --- | --- | --- |
| Discontinued | CABLE_USB_PANEL | USB Cable, Mini-B to Standard-B Panel Mount Adaptor | $5.50 |
| | |
| --- | --- |
| Inventory Status: | Out Of Stock |
| Last physical count: | May 7, 2018 |
This short cable allows mounting Teensy or Teensy++ inside an enclosure, with a sturdy standard B type connector. The Teensy is protected from excessive force applied to the panel mounted connector.
Mini-B works with Teensy 2.0. Mini-B does not work with Teensy 3.0 (requires Micro-B).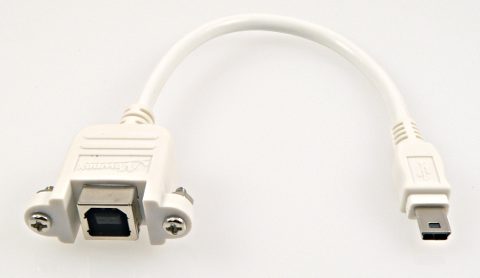 The overall length, from the tip of each connector, is approx 10 inches (25 cm). The portion that is flexible cable is approx 7.5 inches (19 cm).