PJRC Store

Teensy 3.6, $29.25

Teensy 3.5, $24.25

Teensy 3.2, $19.80

Teensy LC, $11.65

Teensy 2.0, $16.00

Teensy++ 2.0, $24.00
Teensy

Main Page

Hardware

Getting Started

Tutorial

How-To Tips

Code Library

Projects

Teensyduino

Reference

Pin Assignments

Schematic

Dimensions

Datasheet

Benchmarks

Eagle Libs

SD Adaptor

Arduino Contrib.

HalfKay Identify

Checking HalfKay

Mac OS X

Linux

Windows XP

Windows Vista

HalfKay Protocol

Counterfeits
Checking HalfKay on Windows XP
You need to run the Device Manager, which is available from the system control panel (also called "System Properties"). How you open this depends on how your start menu and control panel are configured.
Default start menu: click "start" to bring up the menu, right click on "My Computer", and select "Properties" from the pop-up menu that appears.
Classic start menu: Right click the "My Computer" icon on your desktop and select "Properties" from the pop-up menu that appears.
Classic control panel: open the "System" control panel.
The "System Properties" window should appear. Select the "Hardware" tab, and then click the "Device Manager" button to launch the device manager.
When the Device Manager loads, click "Human Interface Devices". HalfKay appears as "HID-compliant device".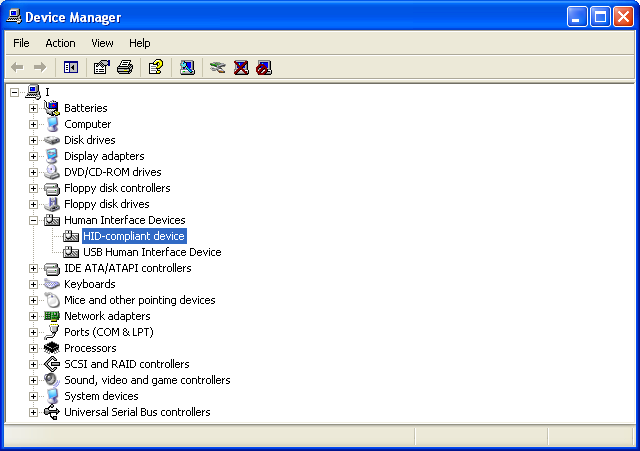 You may have several HID-compliant devices if your computer has a USB keyboard, mouse, joystick, uninterruptable power supply, or other USB peripherals. To check if a HID-compliant device is HalfKay, double click it to open the "HID-compliant device Properties" window.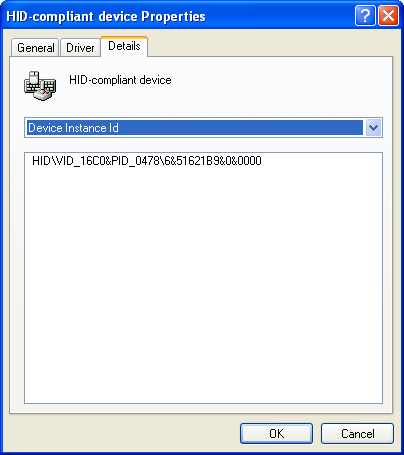 Click on the "Details" tab. HalfKay has "HID\VID_16C0&PID_0478" followed by additional numbers. Other USB devices (or the Teensy when it is running another program) will have different hardware VID and PID numbers.