Eagle Libraries
Eagle libraries for Teensy 4.0 and 4.1.

Phil's library used for his CNC controller and copy used by a cleaner schematic.

NathanNation's Teensy 4.0 Eagle Library.

PC Service's Eagle PCB Library for Teensy 3.5, 3.6, 4.0, 4.1

XenGi shared this library for Teensy on KiCAD for all Teensy boards.


James Carruthers created this Eagle library for Teensy 3.5 and 3.6


Mark shared his Eagle library for Teensy 3.1.
Constantin has created several Teensy 3.0 parts for Eagle
"kam42" posted an eagle library for the MK20 and MINI54 chips.
Russell Nelson is working on symbols for GEDA.
Matt Barnett sent files for Teensy++ on KiCAD.
Tamir Emran created this new library which fixes the hole size problems: eagle_lib_teensy_tamir_emran.zip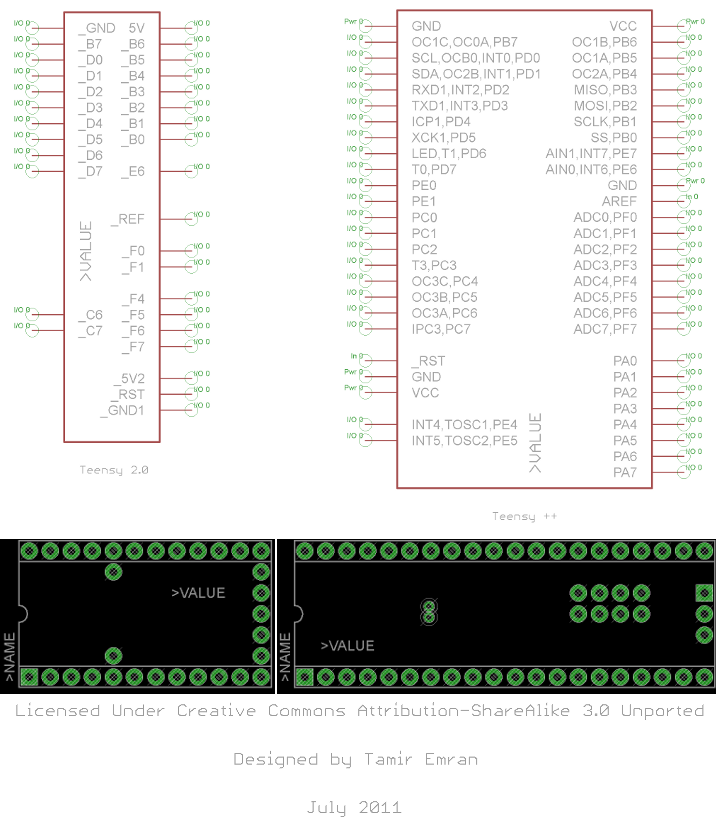 Mark Gross created an Eagle library for the Teensy++ for his line following robot project.
The file can be found on bitbucket or eagle_lib_teensy-libs.zip.
Mark would like your feedback: "I think it should be reviewed again, But I think its mostly correct." Please email Mark at markgross at thegnar dot org if you use his library.
Clint Fisher also created a library for the Teensy 2.0, eagle_lib_teensy_clint_fisher.zip. Caution: the hole sizes on this library have been reported too small for header pins, which usually require at least 0.038 inch / 0.97 mm diameter.
Wanted: any other info Eagle users might find useful...