PJRC Store

Full Product List

Teensy

Teensy 3.0

Teensy 3.0 Pins

Pins 14x1

Socket 14x1

USB Micro Panel

Teensy 2.0

Teensy 2.0 Pins

Teensy++ 2.0

Teensy++ 2.0 Pins

USB Mini-B Cable

USB Micro-B Cable

USB to Panel

SD Adaptor

Wiz812 Adaptor

XBee Adaptor

3.3V Regulator

32U4 Chip

MINI54 Chip

Tutorial Kit

RGB LED

Pins 5x1-D

Pins 12x1

Pins 20x1

Socket 12x1

Socket 20x1

Breadboard

MP3 Player

8051 Dev Board

Payment Options

Privacy Policy
Teensy to XBee Adaptor Kit
| | | | |
| --- | --- | --- | --- |
| | KIT_XBEE_ADAPTOR | XBee Adaptor, Unassembled Kit | $6.00 |
| | |
| --- | --- |
| Inventory Status: | In Stock |
| Last physical count: | Oct 20, 2011 |
This kit lets you easily connect Teensy to a XBee wireless module.
The Arduino XBee Library is fully compatible.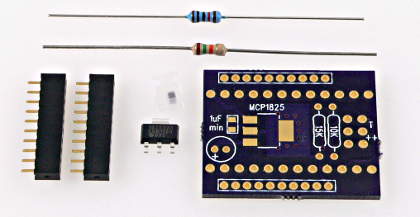 Kit Contents:

1: Bare Circuit Board
1: MCP1825 3.3 Volt Regulator
1: Capacitor, 1µF, 805 SMT Size
1: Resistor, 15K (tan body)
1: Resistor, 10K (blue body)
2: Socket, 10 Pins, 2 mm pitch

Items Not Included:
Assembly Steps:
1: Trim board edges.
2: Solder MCP1825 and 1 µF Capacitor
Tweezers should be used to hold the each part in place while soldering the first pin. The MCP1825 tab should be soldered last. The iron may need to be left in contact for many seconds to transfer enough heat for the solder to flow.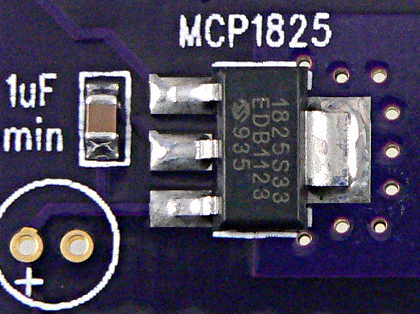 3: Solder 10K & 15K Resistors
The 15K resistor has a tan body, with stripes: Brown, Green, Orange, Gold.
The 10K resistor has a blue body, with stripes: Brown, Black, Black, Red, Brown.
4: Solder 2 jumpers to configure for Teensy vs Teensy++
| Configured for Teensy | | Configured for Teensy++ |
| --- | --- | --- |
| | | |
5: Solder Headers or Sockets for Teensy
You will need headers and/or sockets soldered between the XBee adaptor and Teensy. When soldering headers, a breadboard can be used to hold them straight.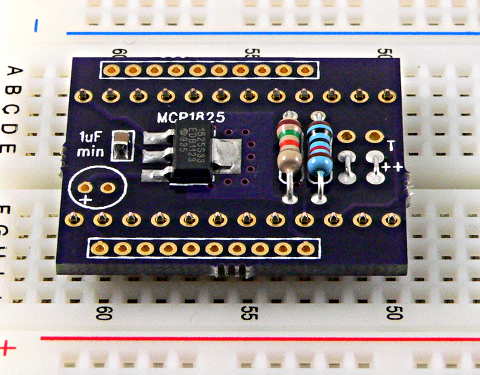 6: Solder sockets to XBee